NPT V7 – Split
Economic and effective air-to-water heat pump, designed for a Nordic climate
Avaliable in 6, 9, 11 & 13 kW
Converts energy from the outdoor air to heating, cooling and domestic hot water
By utilising the energy from outdoor air, you can reduce your energy bills in an eco-friendly way, and at the same time creating the perfect level of comfort for your home. NPT V7 is designed to replace an existing heat source or for new installations. The indoor unit has a stylish design to fit into a modern home. All connections are easily accessible at the top of the unit.
Designed to provide maximum energy savings and quiet operation
By using components from leading suppliers (see table below) and smart control, great energy savings and quiet operation are made possible. All NPT-V7 series are rated A++/+++.
Designed for a Nordic climate
NPT V7 is a split system which means that the heat exchange with the buildings heating system takes place indoors and only the refrigerant circulates outdoors. This is an effective and reliable solution in a cold climate.
The automatic and self-learning defrost function, combined with the nano-coated evaporator, reduces defrosting time to a minimum and increases the efficiency.
Control your heating system
NPT V7 can be controlled locally or remotely thru computer or Smart Device. Make all the necessary settings for an efficient, trouble-free operation with the new user-friendly touch display. Even when you are not at home you have full control of your heating system thru your computer or Smart Device.
---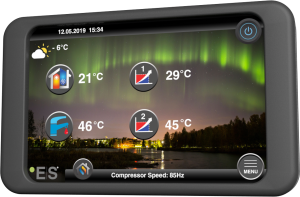 New user-friendly touch screen interface
The interface enables quick adjustment of all temperature settings directly from the front page. The software also supports variable temperature settings (curve) for both heating and cooling.
---
Two zone heating and cooling curves
NPT V7 uses a variable water temperature setting (heat curve) to provide a constant indoor temperature, regardless of the outdoor temperature. When the outdoor temperature drops, the heat pump raises the temperature of the water to the heating system and vice versa when the outdoor temperature rises. This functionality is also available for cooling operation. Different heating systems require different temperatures, e.g floor heating and radiators. The NPT V7 have the possibility to set two separate heating curves if you have combination of high and low temperature heating system or different temperature zones in you home, sensors are included. The heating curve can operate up to 75 degrees set temperature (requires additional high temperature source).
250 litre hot water tank
The integrated tank for domestic hot water heating is 250 litre and heated by the heat pump. If the temperature drops, the heat pump changes the operating status and starts the production of hot water. If additional power is required, the integrated electric heaters will be used as back-up.
Expansion vessel and back up
NPT V7 has 12 litre built in expansion vessel and built in electric heater. The electric heater is controlled by the heat pump and kicks in automatically if heat pump capacity is to small in the coldest days. The backup signal can also be used to control other heating sources, like gas boilers, oil burners, etc.
---

---