AWH R32 V8 – Split Series
Economic and effective air-to-water
heat pump, designed for a Nordic climate
Available in 6, 9 & 12 kW
Converts energy from the outdoor air to heat and domestic hot water.
By utilizing the energy from outdoor air, you can reduce your energy bills in an ecofriendly way, and at the same time creating the perfect level of comfort for your home. AWH R32 S V8 is designed to complement your existing system by keeping your old heat source as a back-up in a modernized heating system. The interior has an elegant design that fits into a modern home. All connections are easily accessible at the top of the device.
Designed to provide maximum energy savings and quiet operation
Components from leading suppliers (see table below) and smart control enable large energy savings and quiet operation. All AWH-R32-S-V8 are rated energy class A++/+++.
Designed for a Nordic climate
Split system enables the advantage that no water is lead outside the house, and special antifreeze protection that drains efficiency is not required. Slim refrigerant pipes are easier to route and cover. The automatic and
self-learning defrost function, combined with the nanocoated evaporator, reduces defrosting time to a minimum and increases the efficiency.
Control your heating system
AWH R32 S V8 can be controlled locally or remotely via smartphone or computer. With the new user-friendly touch display, you can easily make all the necessary settings for efficient, trouble-free operation and see the current status. Even when you are not at home, you have full control over your heating system via your smartphone or computer.
---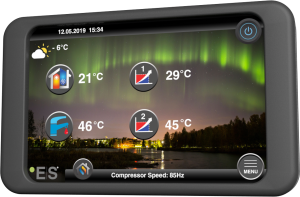 User-friendly touch screen interface
The interface enables quick adjustment of all temperature settings directly from the front page. The software also supports variable temperature settings (curve) for both heating and cooling.
---
Two temperature zones
AWH R32 S V8 uses a heating curve to provide an even indoor temperature, regardless of the outdoor temperature. When the outdoor temperature drops, the heat pump raises the temperature of the heating system and vice versa when it rises. Different heating systems require different temperatures, eg underfloor heating and radiators. With AWH V8, you have the option of setting two heating curves if the property has two different heating systems (zones).
Update your heating system with AWH V8
All correctly dimensioned heat pump systems need backup during the coldest days of the year. AWH R32 S V8 is designed to work in hybrid systems together with all different types of heat sources. If you have a working boiler in the house, keep it as a back-up.
---

---